Accompanied a neighbour to a function at our children's school, and we stopped on our way back for her to look for purposeful gift items. You'll be glad I had my camera by me, won't you?
Lord Krishna in brass
A brass conch used during puja (worship) (You can guess how over-zealous my camera was!)
A low chair...
...that can easily be folded to stow away. (noted the hooks at the sides in the previous image?)
Typical musician set
Complete living room needs!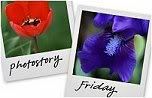 Hosted by Cecily and MamaGeek